Description
Glacier Ice Climbing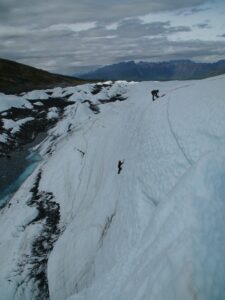 Picking your ice tool into perfectly solid ice with every swing is what ice climber's dreams are made of. And what better way to access pristine ice than by way of glacier ice climbing? Well maybe having a luxury overnight glacier ice climbing experience. Exploring the Matanuska Glacier is an excellent opportunity to climb glacier ice for both beginners and expert climbers alike.
This climbing adventure starts at MICA Guides, based out of Glacier View, Alaska. This locally owned and operated outfitter has been running smoothly for over 20 years. With their skills and years of experience, these professional guides will get you safely to the best spots on the Matanuska.
Getting on the Ice
You will be given the gear necessary to get you on and up the ice. From there you can expect to travel the glacier with your professional guides and find the perfect location for the level of excitement you are looking for. Your guides will teach you the techniques you need to be safe and to scale those ice walls.

There is terrain and experiences that are beginner friendly as well as anyone looking for more advanced climbing options. These trips will lead you into the many different features of a glacier and the beautiful and powerful intricacies within them. Looking for a full day of ice in a more remote and private area of the glacier? Taking a helicopter flight to your ice climbing location is a great way to save energy for the climb and get some spectacular views on the way.
Glacier Ice Climbing Customizations:
Duration of experience
Group reservation options
Overnight glacier camping option
Direct helicopter flight add-on
2-person Minimum.  You are welcome to sign up as a solo climber the right is reserved to cancel the tour if no other guests sign up. Should this be the case you will be given 5 days notice and a full refund.  This rarely happens but you should understand that it is a possibility.
Questions or concerns? Call us at (907) 302-6059 or visit our Contact Us page.