Advanced Matanuska Glacier Trek
Description
Advanced Glacier Trek
Exploring a glacier is an experience paralleled to visiting another planet. This world of ice is intricate and expansive. Towering walls shower different shades of blue back onto you as you explore caves and crevasses. Frozen water becomes chandeliers of ice and flowing water carves labyrinths of streams to meet glacial lakes and rivers below. If you look to connect further into this world, an advanced glacier trek may be just right for you.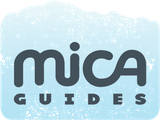 MICA Guides, a local outfitter located in Glacier View, provides years of experience and knowledge to offer this next level experience on the Matanuska Glacier. Only a couple hours from Anchorage, their base provides easy access to this valley glacier. You will start with checking in and grabbing your gear for the ice there. Then you're off to explore with your professional guides.
This trip is for those who are active and ready to tackle some miles over moraine, about six of them, in crampons. This allows the guides to bring you to remote areas of the glacier and to the less seen beauties within them. The group sizes are smaller for a quality experience, with four guests per trip. If you need to customize your group size do not hesitate to Contact Us or give us a call by phone at (907) 302-6059.
You must be at least 12 years of age to go on this adventure. No experience is necessary but you do need to be able to walk at a brisk pace and scramble over uneven terrain. This adventure involves rope systems, lasts all day, provides epic lunch spots, and brings you to otherwise inaccessible features on the glacier. Fill your experience exploring moulins, peering into crevasses, and grabbing some amazing photos!
Advanced Glacier Trek Includes:
Small groups (1 Guide to every 4 guest)
Group customizations
Gear for trekking
Professional guides
No experience necessary
All day exploration on the Matanuska Glacier
Please Contact Us with any questions or concerns or reach us by phone at (907) 302-6059